Certification of Authenticity & developing a Promotion Network of olive products in GREECE – ITALY cross border area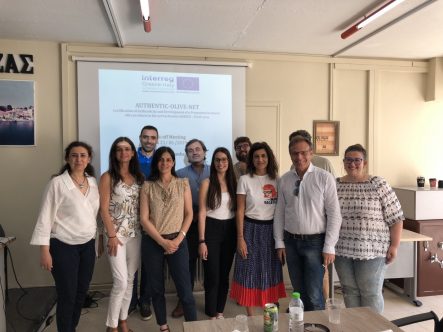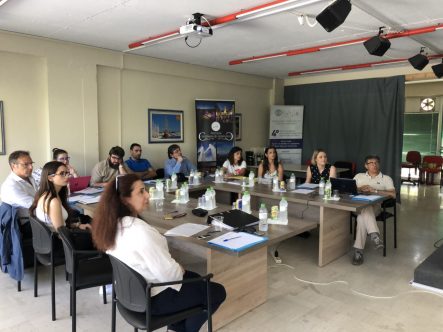 The kick off meeting of AUTHENTIC-OLIVE-NET project – "Certification of Authenticity and Development of a Promotion Network olive products in the across border GREECE – ITALY area" – was successfully organized by Preveza Chamber at his premises on 20 & 21 of June 2019.
Preveza Chamber is leading of a Greek-Italy partnership consisted of the following 5 members: 2 Chambers, Preveza Chamber from Greece and Chamber of Foggia from Italy which are fully represent the agro-food SMEs of the olive sector in their territories, 1 Research Institute, Hellenic Agricultural Organization – DEMETER with an extensive experience in research projects concerning the olive sector, 1 Region Authority, Region of Western Greece with his institutional role concerning the supervision and promotion of the agriculture sector & the rural development, and 1 Olive Oil Cooperative, Assoproli Bari Agricultural Cooperative Society which is one of the Italian largest co-operative bodies in the olive oil sector.
The project, co-funded by the Interreg V-A Greece-Italy 2014-2020 Programme, with a total budget of 875.000,00 euros, intends to face common territorial challenges concerning olive sector such as: a) weakness of exploiting the high quality characteristics of olive oil products produced in the common cross-border area caused by internal market distortions, b) lack of sufficient authenticity certification procedures of local olive products, and c) low level of cooperation among olive oil SMEs with Research Centers in the field of the authentication.
The main objective of AUTHENIC-OLIVE-NET is the establishment of an Innovation Network in the Olive Sector among Chambers, SMEs' Associations, Research Institutes & Regional Authorities, in order to: a) develop & offer to local olive oil companies innovative & integrated authenticity certification methods, tools, structures, and services, and b) promote intelligently the competitive advantages of the local high quality olive varieties to internal & external markets.
The meeting was attended by representatives and experts of all projects beneficiaries, and in particular by: Ms Stavroula Sakalaki, & Ms Sofia Thanou, staff members of Preveza Chamber, Mr Ioannis Manoussopoulos & Mr Panagiotis katsaris, researchers of Hellenic Agricultural Organization – DEMETER, Ms Despoina Karasoulou & Ms Vikentia Bouchagier, staff members of Region of Western Greece, Mr Giussepe Longo, staff member of Chamber of Foggia, Ms Angela Abrescia, scientific expert from Assoproli, and by external experts from the organizer of the meeting company EURICON Ltd Consultants.
Finally, the meeting was attended also by Ms Chrisa Nikou, Info Point Officer of Interreg V-A Greece-Italy Joint Secretariat in Ioannina, and Mr Francesco Cuddemi, Officer of Interreg V-A Greece-Italy Joint Secretariat in Bari, which firstly emphasized the importance of AUTHENTIC OLIVE-NET project for the territorial development of the whole common cross border area, and secondly presented in brief the main legal, administrative and financial rules and procedures of Interreg V-A Greece-Italy Programme.