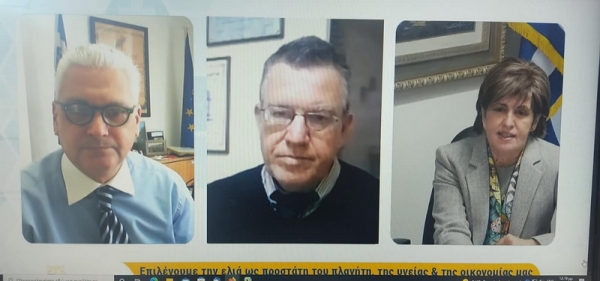 The role of olive cultivation, the value of olive oil and the future that is the standardization for a sustainable development, were the main conclusions that emerged in the on-line event organized by the Deputy Regional Minister of Research and Innovation, Fokion Zaimis, in the frame of 24th Forum of Development.
Through the online meeting: "We choose the olive as the protector of the planet, of our health & of our economy" it was pointed out that olives provide jobs, security and natural resources in rural communities around the world.
During his speech, the Deputy Regional Governor, Fokion Zaimis, highlighted, among others: "The olive is the green gold of our country. The olive oil variety bank is an important proposal that we must work on in depth very seriously. Our olive oil is not one. There are dozens of different varieties with different flavors, acids, color, strength, density, etc. but all important, as in wines. With this way we will highlight (first on the label) and then inside and outside the country the value of the olive oil of each region".
The General Secretary of Rural Development and Food, Christiana Kalogirou, informed the participants that the issue is high on the government's agenda, stating the following: "We need a national strategy to promote olive oil and its products. Through cooperation, we want "green gold" to be a product – a vehicle of a new era. In fact, programs are already coming out regarding processing, olive oil standardization ".
The Agronomist-Researcher, Georgios Sigalos, who coordinated the discussion, speaking about the conclusions, stressed: "We have to move on to products with brand name, such as the region's green olive oil which has excellent quality characteristics and a good price. Also, an application must be submitted for the variety that thrives in our area: koutsourelia. The benefits of the olive, as the scientists pointed out, are many both in the protection of the soils where olive is grown together with other species but also in the benefit to the environment. We definitely need irrigation projects but also to provide methods to maintain the olive oil longer ".
The event was also attended by the Agronomist, Panagiotis Kanatas, the Member of the Organoleptic Laboratory of olive oil evaluation of the Association of Greek Olive Oil Standardization Industries (SEVITEL), Takis Dimitrakopoulos, the Professor, Dean of the Faculty of Agricultural Sciences, University of Patras, Georgios Salahas, the project manager of the European project Interreg Greece-Italy "Authentic-Olive-Net, Directorate of Agricultural Economics and Veterinary Regional Unity Achaia, Region of Western Greece, Despina Karasoulou and the Agronomist-Biotechnologist member of the Board ELGO-Demeter, Panagiotis Katsaris.
All of the above are also in line with the "Farm to Fork" strategy published by the European Commission in May 2020 and changes everything in the agri-food sector.