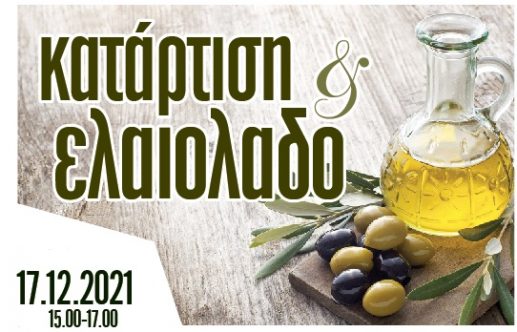 Preveza Chamber, as Lead Beneficiary of the cross-border project: "AUTHENTIC-OLIVE-NET – "Certification of Authenticity and Development of a Promotion Network olive products in the across border GREECE – ITALY area", funded by the Operational Territorial Programme «Interreg V/A Greece-Italy 2014-20», organize, with the co-operation of the Public Vocational Training Institute of Preveza (D.I.E.K. PREVEZA), an event titled: "Training and Olive Oil" aiming at the promotion of the extra virgin olive oils produced from local varieties to the students and graduates of D.I.E.K PREVEZA.
The event will take place on Friday 17/12/2021 at 15:00 – 17:00, in the premises of D.I.E.K. PREVEZA.
The event will be organized as a Thematic Workshop, with the participation of related with the specific subject invited speakers, including presentations dealing with the nutritional value of local olive oils and the promotion of "authenticity" concept, the use of environmentally friendly cultivation and production techniques of olive oil, innovative methodologies for certification of authenticity of olive oil developed within the project AUTHENTIC-OLIVE-NET, and an olive oil testing event at the end.
The main aim of the AUTHENTIC-OLIVE-NET project is the development and provision of innovative and integrated methods, tools, and services for the certification and promotion of the authenticity of olive oil the producers / standardizers / distributors of olive oil in the common cross-border area GREECE-ITALY.
Preveza Chamber believes that the development of synergies and collaborations among local productive bodies and vocational training institutes of the region, such as D.I.E.K. PREVEZA, is necessary for the upgrading of the relevant skills of the local human resources acting in olive cultivation and olive oil production in order to support their efforts for the production and promotion of high quality extra virgin local olive oils.
For this reason, Preveza Chamber thanks the D.I.E.K. PREVEZA for his valuable contribution on this event.